Articles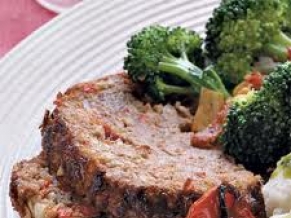 Recipe(s)
Wild Game Recipes
Throw everything in a bowl and squish together. Add more ketchup if necessary. Press into bottom of 8x8 pan. Top with a thin layer of ketchup. Cook at 375 for 45 minutes. I usually serve with quick and easy smashed taters and steamed broccoli
(Smashed Taters, you ask? WELL. In the produce section you will find a plastic bag of red potatoes that are steamable, all you do is pop the whole bag in the microwave for about 7-8 min, whatever the bag says. When cooked dump them out into a mixing bowl and smash them with a fork. Use 2 tablespoons of butter, 3 tablespoons of sour cream, salt and pepper, and mix by hand with spoon until the butter and sour cream have "blended" with the taters. This is quick, easy, and awesome! It frees me up to go practice shooting my bow for the 30 minutes in between prep time of the meatloaf and putting food on the table!)
Wild Pork Loin
Large peice of aluminum foil
Pork Loin Roast
Montreal Steak Seasoning (about 2 tablespoons)
1/2 bottle of Kraft original BBQ sauce
Wrap loin in aluminum foil, topped with the BBQ sauce and steak seasoning like a package. Bake at 350 for 60 minutes.
I make tater salad and cole slaw with this. The secret to LouLou cole slaw? I shred my cabbage real fine, then add lots of mayo so its wet, a little salt, a lot of pepper, and good pinch of SUGAR. The tater salad consists of big diced taters, boiled with skin left on, until marginal softness. Drain, add mayo and mustard, salt and pepper, and diced up hard boiled eggs. Due to the onion allery, we dont add onions to the tater salad but have heard it makes it good! I put some texas toast in the oven on broil loaded with butter and we NEVER have leftovers!
Wild Turkey Dumplings
1 wild turkey breast
biscuit material (I make mine from scratch, like the recipe on the the back of the clabber girl baking powder can...some folks use canned biscuits, some the bisquick recipe. Its really your preference)
salt and pepper
1 big can chicken broth
4 cups water
1 chicken boiulon cube
Boil turkey breast in the water and boiullon cube until well cooked. Wait for it to cool. Dont throw away your stock, you are gonna need it! After the turkey cools, Take the stock and add chicken broth. "Shred" the turkey into the pot. While waiting for that to come to a boil, roll out your biscuits REAL thin. Cut in strips, and break off 1inch sections and throw into boiling stock. You will only use about 1/2 of your dough. Boil the dough for about 5 minutes, lower heat, cover, and stir occasionally. Allow to simmer about 30 minutes and serve. I usually set boiled corn on the cob and "dead" turnip greens that have been boiling on the stove in butter most of the day on the table along with some cornbread and hot sauce.
ML
Misty L. Lyman
Booking? Questions? Comments? >>> Contact Us!
Honey Hole Hunt Club wants to hear from you. If you have any questions or would like to book a hunt for you, friend or loved one, please contact us. Hogs, Bear, Alligator, Exotics, Florida, Texas, New Mexico, Africa.... we can put you on the animal and trophy of your dreams.