Chasin Bacon Hunting Locations: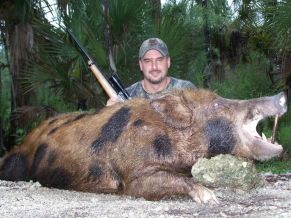 Florid Hog Hunting Naples
Naples Hog Hunting
On this Naples property you can either sit in a ground blind 20 yards away from a feeder, sit in a tree stand 20 yards from a feeder, spot and stalk or bust our your trusty rifle and we have a stand set up over a lake where a feeder will release trophy corn that will lead you to your Florida trophy boar.
Lodging: Lodging is available less than three miles away and hotel rates are cheap. (I will get a link and pricing soon)
Pricing: Meat hogs run everywhere from $195.00, trophy boars run from $300.00-$550.00.
http://youtu.be/9ap7Ekoaft4
Booking? Questions? Comments? >>> Contact Us!
Honey Hole Hunt Club wants to hear from you. If you have any questions or would like to book a hunt for you, friend or loved one, please contact us. Hogs, Bear, Alligator, Exotics, Florida, Texas, New Mexico, Africa.... we can put you on the animal and trophy of your dreams.