Chasin Bacon Hunting Locations: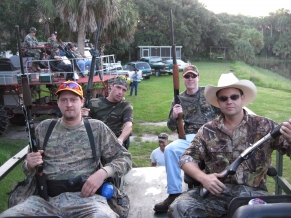 Okeechobee Hog Slayin
Meat & Trophy Hogs
Bring your kids out for their first hunt when you can be sure of success! There are several guns here for kids or anyone to use free of charge.Let us help you get your kids away from video games,take your kid hunting don't hunt your kids.There are double stands so parents and kids can hunt together.Don't forget women love to get outdoors too. If you have any questions or special needs contact us and we will do our best to accomodate you.
The lodge can accomodate eight with a full kitchen and den,two bed/two bath.There is a grill area with gas or charcol and a screen porch.Camping is permitted there is a charge per tent or camper.
The Okechobee Property offers the following:
Osceola TurkeyQuail,Dove and DucksExotics upon request
- Osceola Turkey
- Quail, Dove and Ducks
- Florida Wild Boar / Hogs
- Florida Meat Hogs / Trophy Boars
- Exotics upon request
Booking? Questions? Comments? >>> Contact Us!
Honey Hole Hunt Club wants to hear from you. If you have any questions or would like to book a hunt for you, friend or loved one, please contact us. Hogs, Bear, Alligator, Exotics, Florida, Texas, New Mexico, Africa.... we can put you on the animal and trophy of your dreams.