Chasin Bacon Hunting Locations: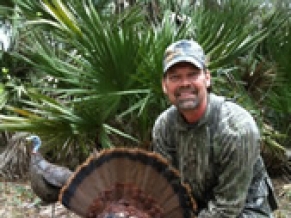 Oscola Turkey Hunting
Florida Oscola Turkey Hunting 100% success
Chasin Bacon Offers a GUARANTEED OPPORTUNITY at a TROPHY OSCEOLA TURKEY in the South Florida Everglades!
Although Chasin Bacon is a relatively new operation, our Chasin Bacon approved guides and outfitters have been professionally guiding since the mid 1980's and many are South Florida natives that have been hunting and fishing their entire lives.We love to take new hunters, hunters with disabilities, wounded warriors and able bodies hunters in the field for a spot and stalk hunt, tree stand hunt, buggy hunt, golf cart hunt or stationary hunt from a pre set station - we have many options for you.
We currently operate on numerous large private ranches located in Collier and Hendry Counties in South Florida. These properties consist of more than 25,000 acres in total. We maintain an extensive management program year round for our turkeys, which includes mowing, prescribed burning and disking. We also have a large feeding program, which includes food plots, and supplemental feeding with automatic solar powered feeders and free choice feeders.
We have an excellent population of Osceola turkeys consisting of dozens of different family flocks totaling several hundred birds on some of the most pristine turkey habitat in Florida as well as a relaxing environment for you to enjoy your adventure. Clewiston and Okeechobee turkey hunting is available as well. Click here to contact us!
Booking? Questions? Comments? >>> Contact Us!
Honey Hole Hunt Club wants to hear from you. If you have any questions or would like to book a hunt for you, friend or loved one, please contact us. Hogs, Bear, Alligator, Exotics, Florida, Texas, New Mexico, Africa.... we can put you on the animal and trophy of your dreams.