Chasin Bacon Sponsors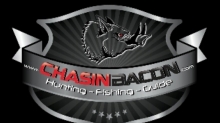 CHASIN BACON
Premier fishing and hunting guides from Florida to Africa.
FLORIDA HOG HUNTING AT IT'S FINEST !
South Florida's premier trophy hog hunting experts. From meat hogs to trophy boars, deer, elk, buffalo, sitka, alligators or exotics.... we are the outfitters and guides for you.
Chasin Bacon's mission is to share our passion for conservation and hunting. As well as to foster that drive and dedication to hunting for the next generation of hunters in a safe and ethical manor. Our expert hunters, outfitters and guides will help you plan, promote, organize, and execute your next hunting experience.
The diversity of Chasin Bacon, a CTK Corporation, allows us to assist you in choosing the perfect place, and type of hunt that fulfills your dreams and exceeds your expectations. Whether you are an avid hog hunter, deer hunter, wing-shooter or a big-game hunter, as part of the CTK family, you will be connected to the premier hunting outfitters throughout the country that can ensure that you of a five-star event no matter what your hunting preference may be.
We are constantly making changes as we grow our site, if you see something one day, and gone the next we are trying different layouts to see what works best for us and you, our clients, customers and friends.
If you have questions or want to get to the hunt click here to CONTACT US.
Booking? Questions? Comments? >>> Contact Us!
Honey Hole Hunt Club wants to hear from you. If you have any questions or would like to book a hunt for you, friend or loved one, please contact us. Hogs, Bear, Alligator, Exotics, Florida, Texas, New Mexico, Africa.... we can put you on the animal and trophy of your dreams.