Chasin Bacon Sponsors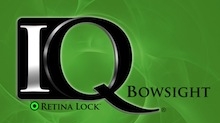 IQ Bowsites
Best Bow Sight
The IQ™ Bowsight's revolutionary Retina Lock™ Alignment Technology will dramatically extend your effective range!
Most bowhunters are confident shooting at shorter ranges. But, get out to 40 yards or beyond and they lack consistency. This is because of mis-alignment due to bow torque or inconsistent anchor. It doesn't take much.
A 1/4" translates to a 10 inch miss at 40 yards (see diagram below). That's about to change! IQ Bowsights revolutionary Retina Lock Alignment Technology puts you in perfect alignment for every shot. It's easy to use and you'll instantly be shooting short range groups at long range distances!
They support and value their customers and stand behind their products.
Call us today to ask questions (kick the tires) or book a hunt:
(877)9-HUNTING
(877) 948-6846
(954) 410-5956 Cory's Cell
Booking? Questions? Comments? >>> Contact Us!
Honey Hole Hunt Club wants to hear from you. If you have any questions or would like to book a hunt for you, friend or loved one, please contact us. Hogs, Bear, Alligator, Exotics, Florida, Texas, New Mexico, Africa.... we can put you on the animal and trophy of your dreams.